The sensitive edge is a safety component used to avoid crashing or cutting risks by sliding doors, automatic moving guards, automated moving guards, electrical gates, etc.
PRE-ASSEMBLED SAFETY EDGES
(Standard version; length upon customer's request with pre-assembled sensor and aluminium support.)
The edges feature a PVC coating with an internal sensor, consisting of 2 conductive blades, separated by a non-conductive part.
When the edge is pressed, the blades come into contact and make the circuit.
Il cambiamento di stato del sensore interno (da NA a NC) viene elaborato dall'unità di comando "dispositivo di controllo", il quale invia un segnale di arresto macchina, eliminando così la situazione di pericolo venutasi a creare.
CONDUCTIVE EDGES PRE-ASSEMBLED OR "DO-IT-YOURSELF" VERSION
(cut and mounting of accessories by the customer/installer)
It consists of a TPE thermoplastic profile with two internal co-extruded parts made of conductive plastic material (sensor) and two copper wires, to stabilize the resistive value of the contact over the entire length of the edge.
Particularly suitable for outdoor use, in any type of environment and at any temperature (-15°C to +55°C).
It can be supplied as a "do-it-yourself" version, with a series of accessories allowing the customer/installer to define and implement the edge directly on the machine/system. Upon request, the edge can be supplied assembled, tailor-cut to measure and complete with all accessories
The supply of the system is made by means of a 2-wire electric cable, 2x0.35 mm2 CEI 20-22 with die-cast needle connector to allow easy fitting into the two chambers containing the copper cable.
Standard length of cable: 3 m..
The electric circuit is closed by a needle connector containing an electric resistance, 8.2kOhm
The ends of the edge are sealed by means of special end caps which, sealed with a special sealant, ensure better watertight property The standard outlet of the supply cable is at the end of the profile
If side or bottom part outlet is needed, please indicate when ordering. For the "do-it-yourself" version, the cable outlet will be implemented by drilling the cable hole into the terminal end cap.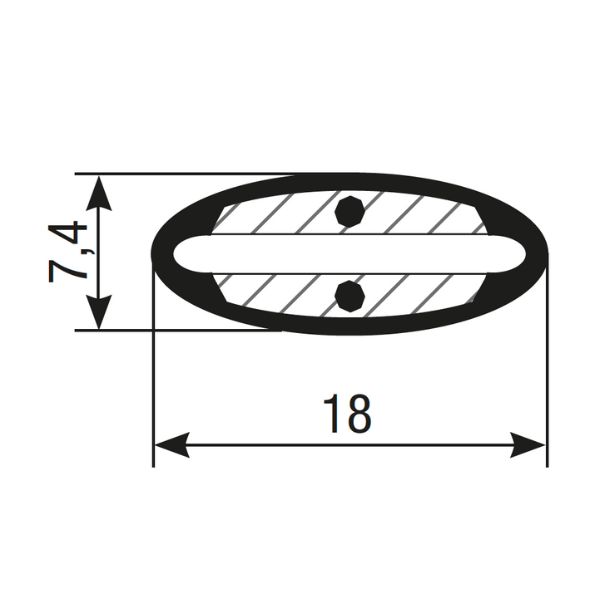 ALL EDGES ARE SUPPLIED IN STANDARD ROLL OF 25 MT AND / OR 100 MT
Fill out the form and we will reply
within 24 hours.