THE PRESSURE-SENSITIVE SAFETY BUMPER IS USED TO PROTECT PERSONNEL FROM COLLISION AGAINST VEHICLES OR MOVING PARTS OF AN INDUSTRIAL MACHINE SUCH AS AGV, STACKER CRANES, WIRE-GUIDED VEHICLES, AUTOMATIC WAREHOUSE, ETC...
When minimum compression is applied to the bumper, after a pre-run, the internal contact of the sensor closes and changes its state (from NO to NC).
The "control unit" immediately emits a stop signal indicating that a change in the sensor state has occurred and removes the hazardous situation.
After the pre-run, the bumper still allows for a compression called "overrun", which varies according to the bumper depth, and such to further soften the impact.
Bumpers are made of polyurethane foam glued to a fastening frame and covered with protective fabric.
A pressure-sensitive sensor, called "sensor", is housed inside the bumper
Bumpers are available with standard maximum length of 3 m. For other lengths, they can be split into several parts (request to be indicated when ordering).
Other shapes and dimensions available upon request
SAFETY BUMPERS: STANDARD SHAPES
Standard safety bumper with length upon customer request. The border is supplied with pre-assembled sensor and aluminum holder
Upon request, we produce forms according to customer drawings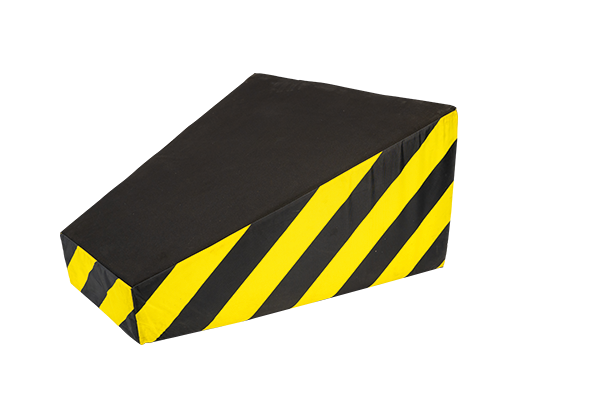 The standard version of the bumper is supplied with black fabric cover and front part with slanted yellow-black stripes
Other colours or cover types available upon request
PVC
Spark-proof (fireproof coating or coating resistant to aggressive products)
Eco-leather
The bumper is mounted to the "machine" by means of a frame-plate which may come in three different configurations.
Frame-plate which protrudes from the bumper and has Ø 8.5 mm holes for fastening to the machine via screws and bolts.
Frame-plate length upon customer request
Frame-plate flush with the bumper and with threaded holes (specify when ordering) for fastening to the inside of the machine via screws
Version B not recommended for bumpers with PVC coating for outdoor applications.
Frame-plate flush with the bumper and with M6 stud bolts, 30 mm long, for fastening to the inside of the machine via bolts.
CREATE THE MOST SUITABLE SAFETY BUMPER FOR YOUR NEEDS
Fill out the form and we will reply
within 24 hours.